There's probably been loads going on in the Midlands lately. Absolutely loads… There was a Battle of the Bands in my hometown of Worcester. I know that for sure. I don't, however, know who won it. In fact, for all I know the final was postponed due to the ghost of Sir Edward Elgar himself appearing on The Marr's Bar stage and puking ectoplasmic bile over the punters whilst gently tugging himself off and murmuring, "No shame." This could have happened. The point is that I just don't know and the reason for my not knowing is that, apart from the odd game of chess with the landlord of my local (current tally one-all, everything to play for), I've been bunkered down in my bedroom working on AWWBLOT's debut album.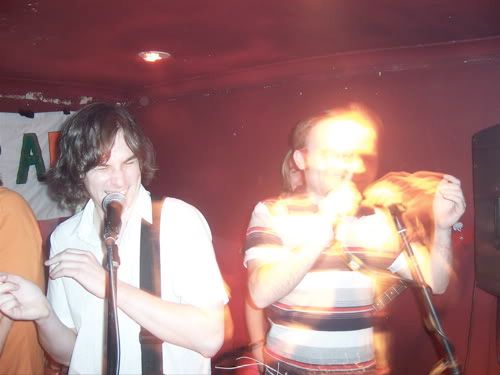 At the end of last year the organisation that is AWWBLOT found itself in a tricky situation. Redundancy and personal problems had led to the band having no money and, due to getting stung by the industry earlier in the year, no direction. We did have a load of pretty good songs though. We were sure of that. So we went to the pub and pretty quickly decided to fuck it all off and record an album anyway, with or without industry support. In order to cut costs we'd do it ourselves (Chris Them is, after all a named producer on Steve Harley The Cockney Rebel's last album!) and spend money on getting it mastered at the end. Oh how joyous the idea was! Oh how lovely!
Finally we'd bitten the bullet; the plan was good. We were going to take on the DIY ethos whole-heartedly! Good, good and very good! This plan was going to work and, sitting in Monroe's Cellar Bar supping on our light ales, heavenly warmth filled our bodies. Fast forward four months and it's a f*cking living nightmare. I have no idea how many cigarettes we've smoked but my lungs feel like lead. Chris is having a daily aneurism as things that worked the night before aren't working the day after and James Perry (our lovely pal who stepped in for engineering duties) has taken to telling us that he hates us every single time we speak. Half the album doesn't have bass or keys. There is only one song with vocals (boy vocals that is, Red, our girl singer, hasn't even heard a note yet…)
The drums were finished in three nights yet it has taken over two and a half months to finish the guitars. I have been living in Groundhog Day. Every morning I awake hung-over. I go to work. I finish work. I pick up Chris. We go to mine. James arrives. We record another f*cking guitar line. Chris tells me it's out of time. Repeat scenario by 15. I begin to cry. Chris plays guitar line himself to show me how to do it. It is spot on. We record Chris doing guitar line that I was incapable of. Chris and James leave. I drink.
However, the guitars are now done and tonight is the second night of working on vocals. Soon Joe will finish his bass lines. Matt will finish his keyboards. Red will sing. It appears there is light at the end of the tunnel but I can only go on trust.
PS. If anyone wants to appear on the album. Go "woop woop!" into a recording device, e-mail me the sound on pete_of_them@hotmail.com and we will try and plaster it in somewhere. Or, don't. Perhaps just eat a cake and send us the sounds of that. I'm sure we'll use it.
Blue Peter is in And What Will Be Left Of Them? and Girls On Film.